IQ Trader

Intelligent trading made simple.......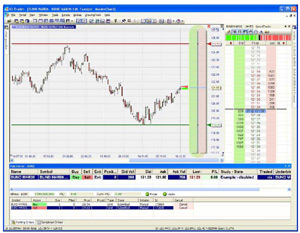 Designed for technical and system traders hedge fund managers, commodity trading advisors and other advanced users, Io-Trader is an excellent tool for professionals who want a comprehensive view of markets and products.
IQ-Trader enables you to perform sophisticated operations without the need for programming skills. Intelligence is in-built, intuitive, automatic.
You have the flexibility to create studies, trade guards, complex strategies - in fad, a huge range of defensive and offensive 'trading plays' - all by pointing and clicking. Moreover, Io-Trader offers backtesting and optimization that are unequalled in speed functionality and ease of use. Seamless automation is guaranteed.
You can create individual studies and layouts using indicators, filters and drawing tools and you can drag and drop information onto charts. You research, configure and then build your trades step by step. The result is precise control over your trading environment.
As for trading styles, you have (among others) discretionary trading, scalping, fully automated trading, real-time monitoring, and database screening.
Charting/analytics

Combines Patsystems real-time data with historical data from third-party data providers
Direct order entry from charts
Creates trading signals based on analytic studies with auto order entry
Choice of popular technical studies and charting tools such as Candlesticks, Bollinger bands, and Fibonacci replacements
Optimizes strategies to create winning plans

Trading style

Drag-and-drop trading window for pricing, order entry and cancellation
Position and P&L display in quotes window
Tabbed working order/completed order display
Ladder-style depth of market order entry including volume at price display and market weight indicators
Bracket orders to automate exit and stop loss
News window for use with third-party news feeds

Advanced trading tools

Create trading systems and strategies graphically or through simple
Express programming language
Functionality to optimize trading strategies
Backtesting and forward simulation of strategies
Money management tools to control trading systems
Event-driven trading strategies

Spread technology

Cross-product and cross-market spreading with any number of legs
Active quoting of one or more legs in the market
Enables spread of spreads
Charting of spreads with historical and intra-day views
Create trading signals on spreads for automated trading
Position management and brackets on spreads